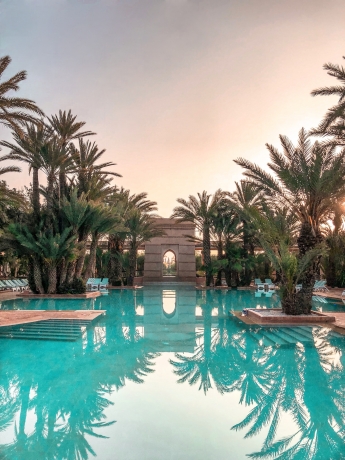 Discover the Most Instagrammable Places in Morocco
Morocco is a country filled with beautiful and unique places, making it the perfect destination for those looking to capture stunning photos on Instagram. From the bustling streets of Marrakech to the serene desert landscapes, there's something for everyone. Here are six Instagram-worthy places in Morocco that you won't want to miss:
The Medina of Marrakech
The Medina of Marrakech: This historic city is a must-see for any traveler visiting Morocco. The narrow, winding streets are lined with vibrant markets, traditional buildings, and stunning architecture. Snap a photo of the famous Bahia Palace or wander through the souks to capture the vibrant colors and textures of this ancient city.
Ait Benhaddou
Ait Benhaddou: This UNESCO World Heritage Site is a fortified village located in the Atlas Mountains. The clay buildings and kasbahs make for a picturesque setting, and it's been used as a filming location for many Hollywood movies, including Gladiator and Game of Thrones.
The Blue City of Chefchaouen
The Blue City of Chefchaouen: This charming mountain town is known for its blue-painted buildings and picturesque streets. The blue color is said to have been introduced by Jewish refugees in the 1930s, and it's said to keep mosquitoes away and provide a sense of calm.
The Sahara Desert
The Sahara Desert: A visit to Morocco isn't complete without a trip to the Sahara Desert. Take a camel trek to a traditional desert camp and watch the sunset over the vast dunes. The orange and red hues of the sand and sky make for a truly breathtaking view.
The Todra Gorge
The Todra Gorge: This natural wonder is a popular spot for hikers and rock climbers. The towering cliffs and narrow canyon make for a dramatic and unique setting.
The Hassan II Mosque
The Hassan II Mosque: This grand mosque in Casablanca is one of the largest in the world, and it's a must-see for architecture enthusiasts. The mosque's minaret is the world's tallest at 210 meters and offers a panoramic view of the city.
These are just a few of the many Instagram-worthy places that Morocco has to offer. Whether you're a history buff, a nature lover, or a photography enthusiast, you're sure to find something that strikes your fancy. So pack your bags, grab your camera, and get ready for an unforgettable trip.
Suggestion of our best
Tours
Below Tours that may interest you: