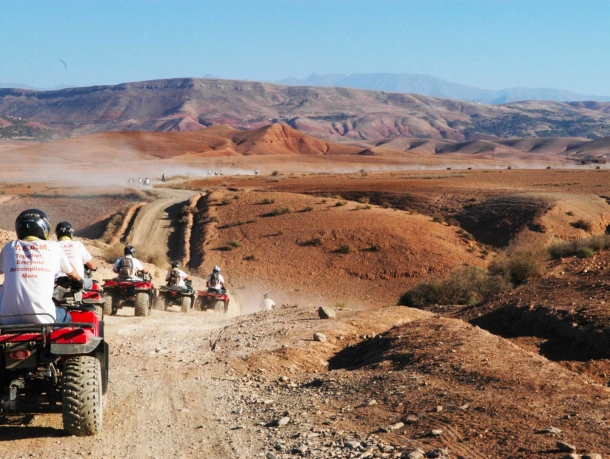 11 Things To Do in Marrakech: A List Of The Greatest Experiences For Your Next Trip
Marrakech, Morocco is a vibrant city that offers travelers a rich mix of history, culture, and adventure. Here is a list of the 11 greatest experiences you shouldn't miss on your next trip to Marrakech:
Explore the Jardin Majorelle: This stunning garden was created by French painter Jacques Majorelle in the 1920s and has since been restored by fashion designer Yves Saint Laurent. It's a must-visit for its vibrant blue walls, exotic plants, and serene pond.
Visit the Koutoubia Mosque: This is the largest mosque in Marrakech and an important symbol of the city's Islamic heritage. It's open to non-Muslims during the day, so you can admire its impressive architecture and courtyard.
Get lost in the souks: Marrakech's souks are a labyrinth of narrow alleys lined with stalls selling everything from spices and textiles to jewelry and ceramics. It's a great place to shop for souvenirs and immerse yourself in the city's vibrant market culture.
Relax in a traditional hammam: A traditional hammam is a bathhouse where you can experience a traditional Moroccan spa ritual. Relax in the steam room, get a massage, and exfoliate your skin for a truly rejuvenating experience.
Visit the Saadian Tombs: These tombs, hidden for centuries, were rediscovered in 1917 and are now open to the public. They offer a glimpse into the city's history and the grandeur of the Saadian dynasty.
Take a cooking class: Moroccan cuisine is renowned for its bold flavors and fragrant spices, and a cooking class is a great way to learn how to make traditional dishes like tagine and couscous.
Visit the Bahia Palace: This ornate palace was built in the late 19th century and is a stunning example of traditional Moroccan architecture. It's surrounded by lush gardens and features intricate tile work, carved stucco, and painted ceilings.
Take a hot air balloon ride: For a truly breathtaking experience, take a hot air balloon ride over the city and the surrounding countryside. You'll get a bird's-eye view of Marrakech and the stunning Atlas Mountains.
Explore the Medina: Marrakech's old city, or Medina, is a UNESCO World Heritage Site and a labyrinth of narrow alleys, vibrant markets, and historic monuments. Take a guided tour to see the city's most famous landmarks and hidden gems.
Visit the Menara Gardens: These expansive gardens are a peaceful escape from the busy city and feature lush greenery, a large pond, and a traditional pavilion. Take a picnic or simply relax in the shade for a relaxing afternoon.
Try traditional Moroccan street food: Marrakech is a food lover's paradise, and there are plenty of street stalls selling traditional Moroccan specialties like grilled meats, kebabs, and fresh juices. Don't miss the chance to try some of the city's most delicious street food.
These 11 experiences are just a taste of what Marrakech has to offer. Whether you're interested in history, culture, or adventure, this vibrant city is sure to leave a lasting impression.
Suggestion of our best
Tours
Below Tours that may interest you: