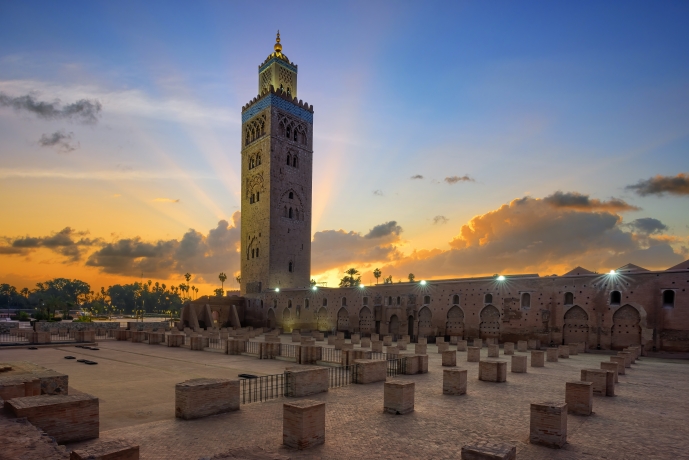 Koutoubia Mosque: The Majestic Symbol of Marrakech's Islamic Heritage
Built in the 12th century under the Almoravid Berber dynasty, Koutoubia is the largest mosque in the city of Marrakech with the capacity of more than 20,000 prayers. It is located opposite the Jemaa EL Fna square (200 meters away), with its 77-meter high minaret, the architecture and decoration of this magnificent building perfectly illustrates the art of the Almohads for almost 1000 Years.
The mosque cannot be missed. A must-see landmark when walking through the medina or the new part of Gueliz. It is visible to tourists from the main boulevards of Marrakech and the main streets of Gueliz, as well as from the terraces of Riads, Hotels and Restaurants in the Medina. It can also be seen from 25 km away from the Ourika.
The origins of the name comes from the integration of the Arabic language in former Morocco. The word Al Koutoubyyin means "librarian", a word from the new language that came with the arrival of Islam.Koutoubia means the book markets that used to be around the mosque and the itinerant storytellers.
Like all buildings in Marrakech, the mosque's structure is a lighter shade of red. Its simple design, sophisticated decoration and perfectly balanced proportions make it one of the most beautiful monuments in the Maghreb.
The mosque is decorated with curved windows, ceramic strips, pointed minarets and decorative arches. In addition, a large square with gardens adds beauty to the mosque. The 773-meter (253-foot) high minaret holds arrows and bullets.
Koutoubia is the model for two sister mosques: the Giralda in Seville and the Tower of Hassan in Rabat. As such, the building is a fine example of Moorish architecture, reflecting keystone arches and decorative stonework. They are built over the same longitude straight line from Seville, through Rabat, to Marrakesh. It's Almoravid Sultan Yaqoub al-Mansur ordered their construction.
Can Non-muslims enter the mosque?
Unfortunately, in Morocco, non-Muslims aren't allowed to enter mosques. The only exception is the King Hassan II Mosque in Casablanca, one of the largest places of worship in the world. But that doesn't mean you can't enjoy the beautiful sight of its architecture and minaret from outside while drinking fresh juice or eating cotton candy and popcorn.
Before visiting the Jamaa L'Fna square, you can first pass through Koutoubia, the symboL of Marrakech Islamic Heritage, stroll in its garden and observe the decoration of its minaret.
Suggestion of our best
Tours
Below Tours that may interest you: