Moroccan Cooking Class in a Riad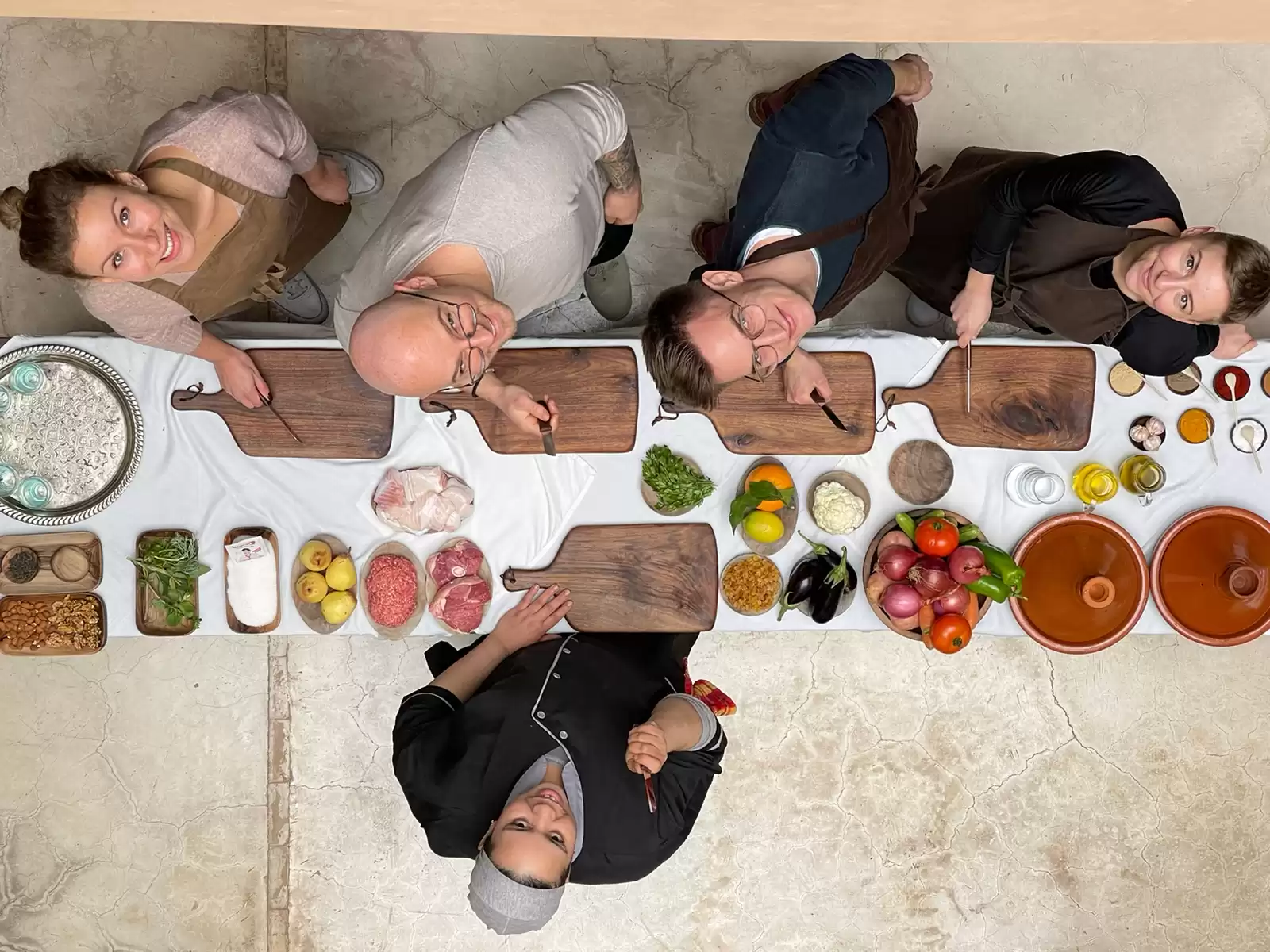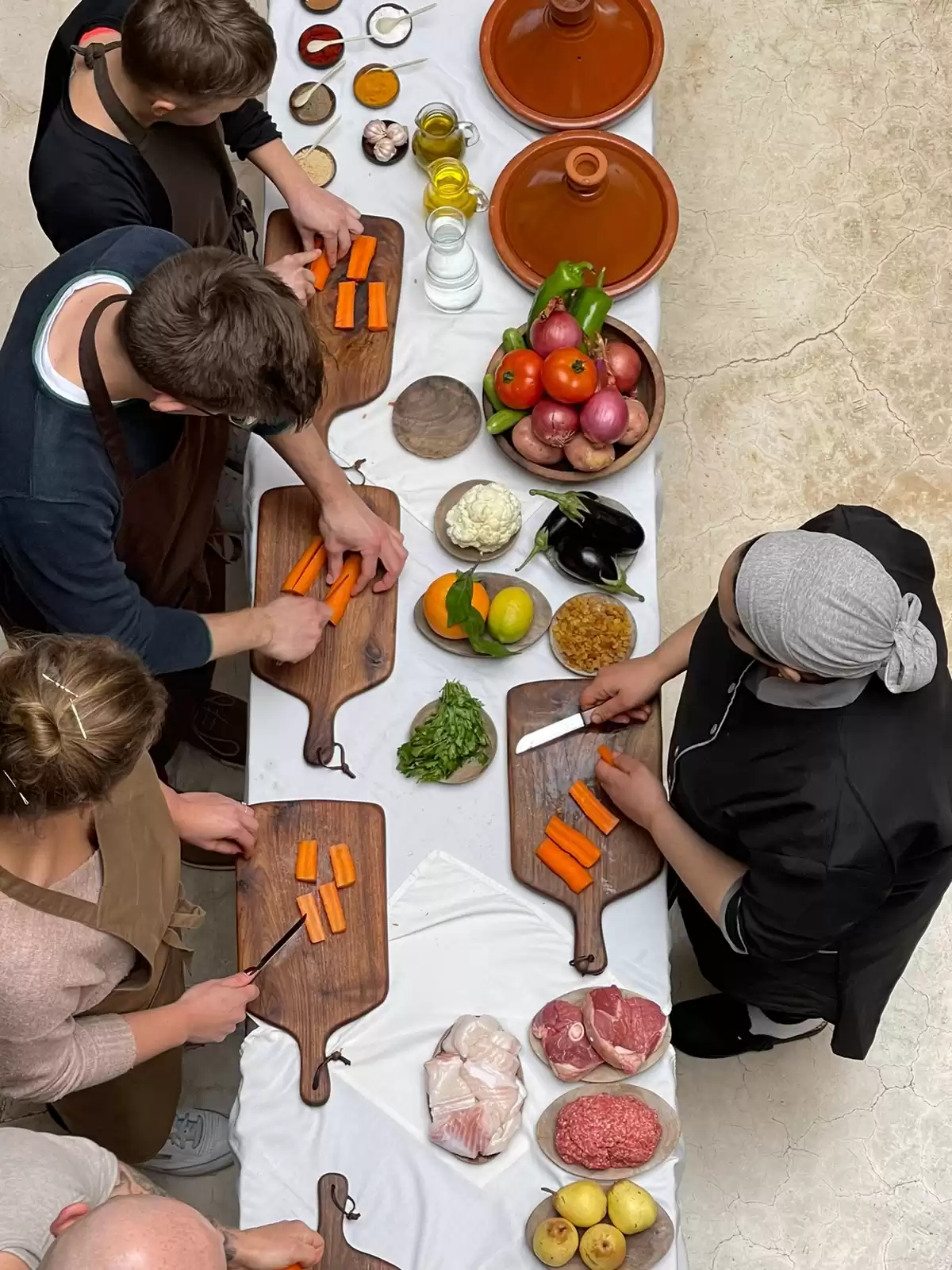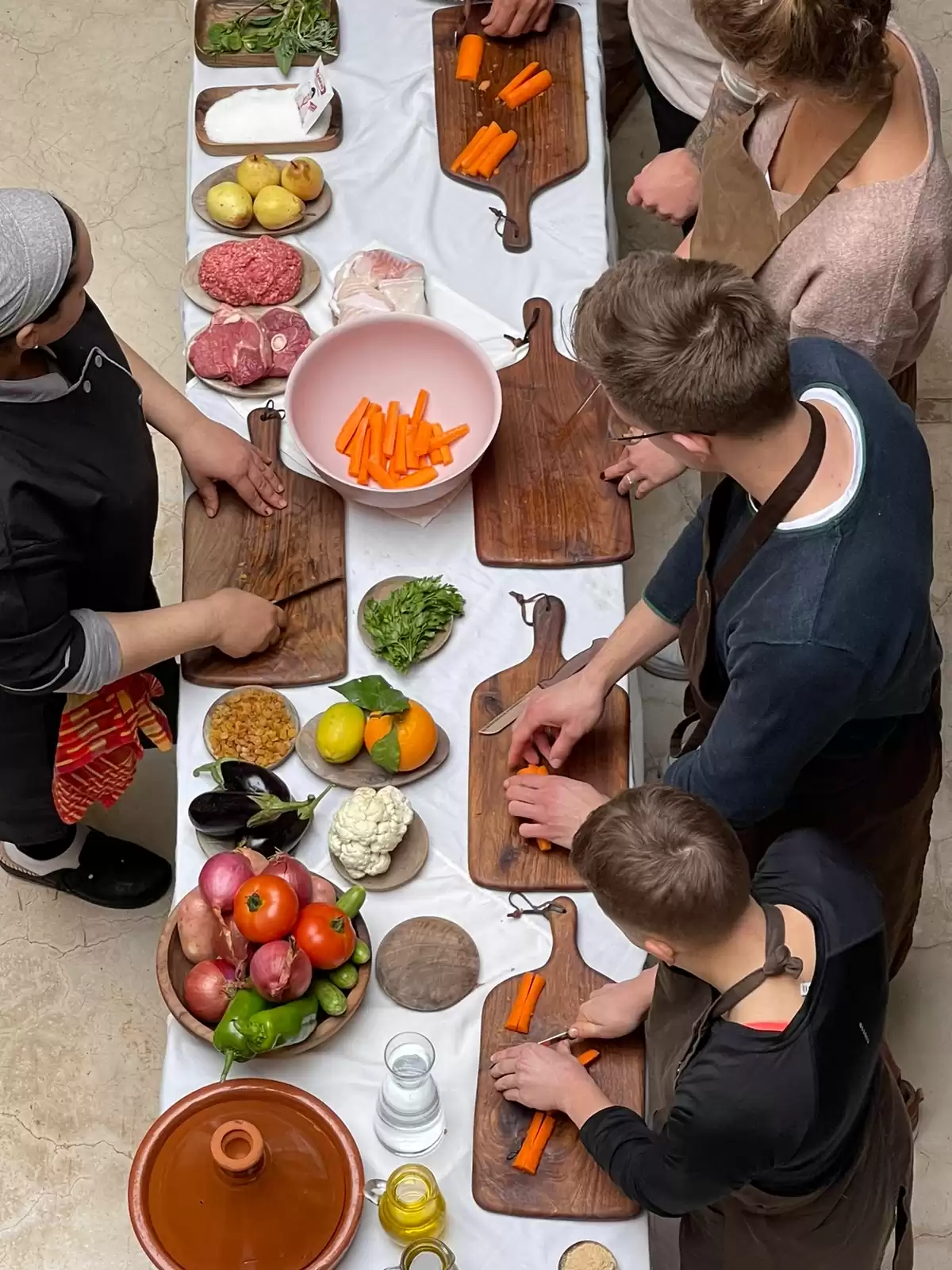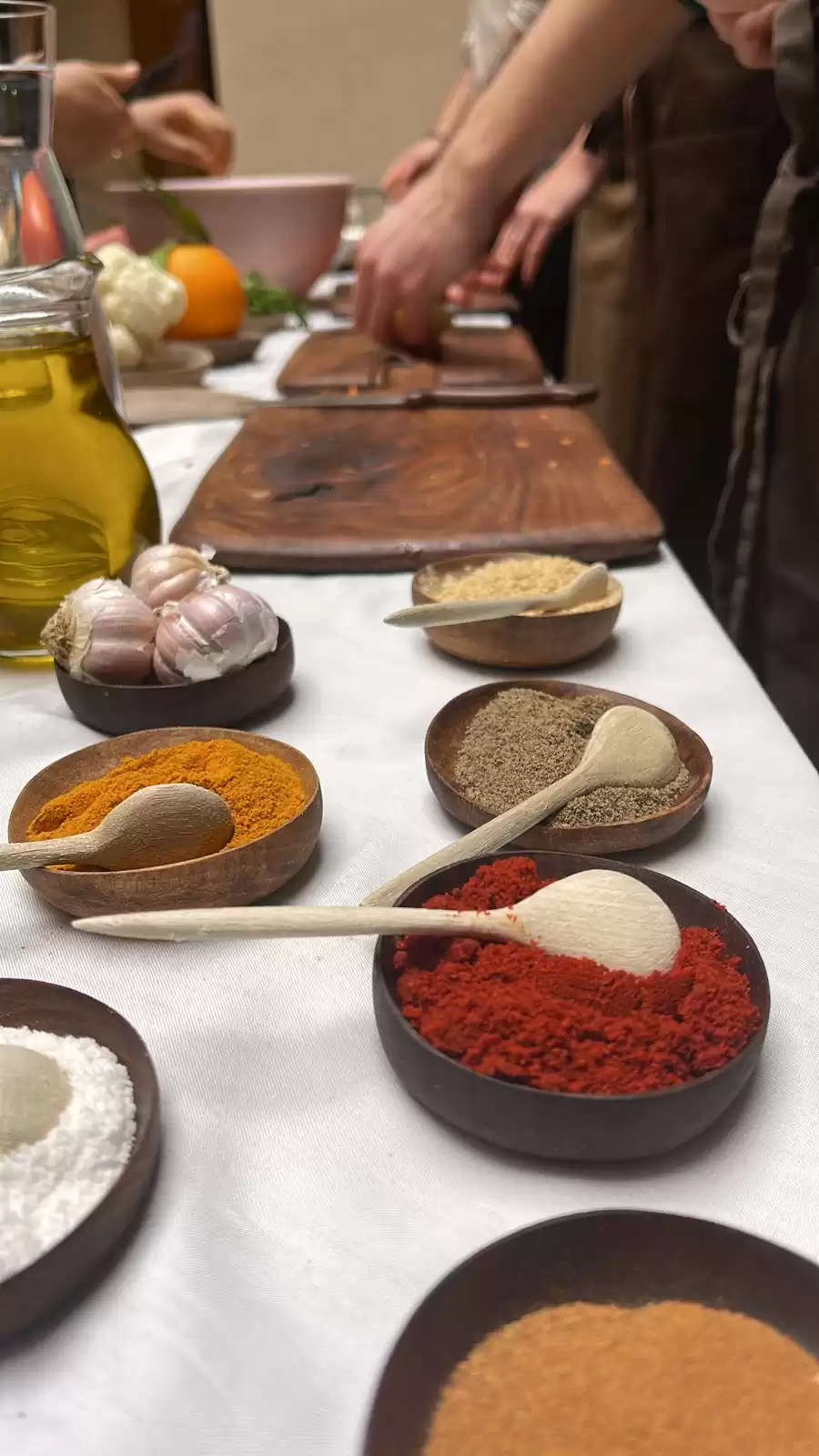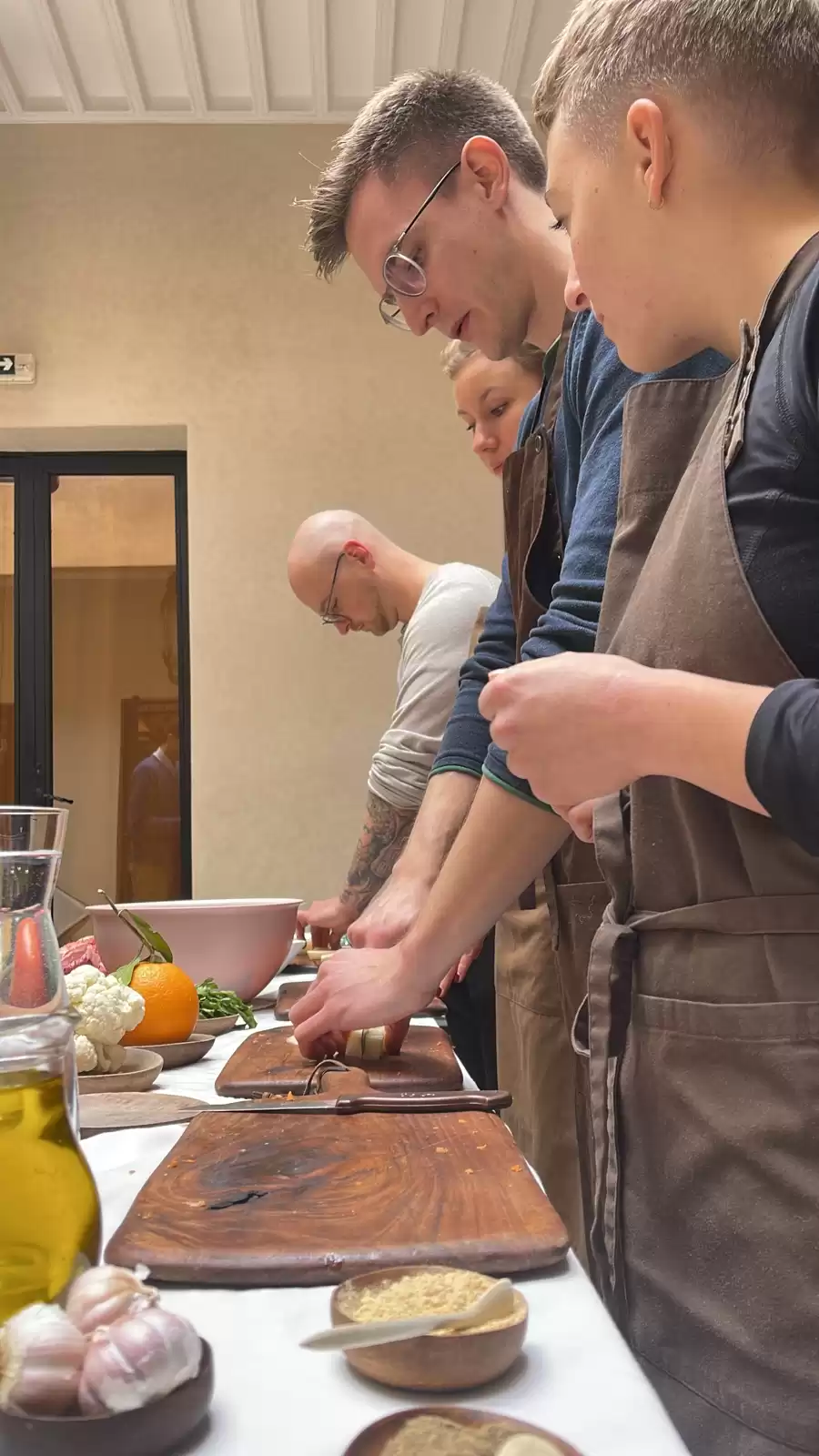 Duration
of Tour
½ Day

Start in the morning


10

Start in the afternoon


15
Meeting
place
Riad Workshop

Maximum number


10
This gastronomic activity will reveal the secrets of Moroccan cuisine. On arrival at the riad, the staff will welcome you with tea and traditional Moroccan pastries. The team will then present you with the cooking class menu and guide you in choosing the dishes you would like to prepare.
Program:
To begin the experience, you will be taken to the local vegetable market, known as the "souk", where you will hand-pick all the ingredients for your chosen dishes with the guidance of our chef. The visit to the souk is a hands-on experience, allowing you to choose your favourite vegetables, fruits and spices.When all the ingredients are ready, you return to the riad.
You will start by making Tea with the herbs you bought in the souk, then you will begin to prepare the dish by organising the utensils, cleaning the vegetables and arranging the ingredients on the table.
The chef will explain the choice of vegetables, spices and all the ingredients to give you an overview of Moroccan cuisine. You will then move on to the cooking phase, in which you will participate under the supervision of our chef.
Once all the dishes are prepared, a table on the terrace will be set up so you can enjoy authentic Moroccan cuisine while enjoying the magnificent view.
Finally, the chef will give you a Cooking Certificate thus concluding this wonderful experience.
All the services included in this product are mentioned below:
Traditional Moroccan tea and pastries
Tour at the souk
Choice on site the tagine you want to prepare
A briefing on Moroccan Cuisine
Moroccan cuisine full course
Consumption of the prepared meal (excluding drinks)
Chef's certificate from the riad !
Below are the pricing tables of all the services proposed in this product:
Children's conditions
Children free with "Shared tour"
0
*They are not applied on children if they benefit from a reduced rate.
*They are not applied on accommodation.
Below are the hotels included in each destination by category, in the case of unavailability of one of the hotels mentioned in the program, MY MARRAKECH TOURS undertakes to offer you hotels similar or superior to the chosen category.
---
---
Similar
Tours
Below more choices of the same category that may interest you.