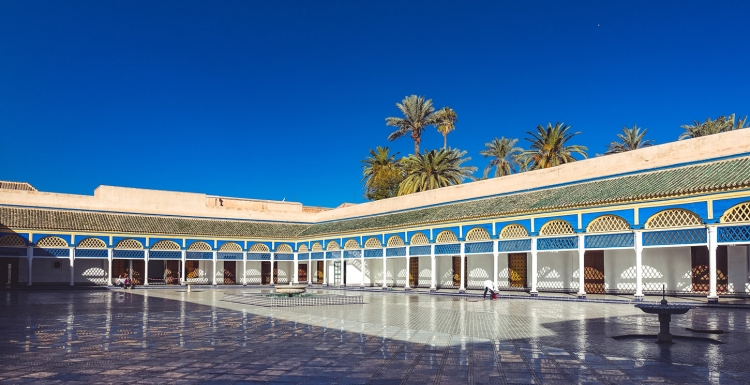 Discovering the Beauty of the Bahia Palace: A 19th Century Masterpiece in Marrakech
The Bahia Palace, also known as the "Palace of Brilliance," is a 19th century masterpiece of Moroccan architecture located in the heart of Marrakech. Built for a wealthy Moroccan nobleman, the palace is a blend of Moroccan, Andalusian, and Mozarabic architecture and features intricate tilework, stucco carvings, and colorful mosaics.
Visitors to the palace can explore the patios, gardens, and private apartments, providing a glimpse into the opulent lifestyle of the palace's former inhabitants. The palace is open daily from 9am to 5pm and the entrance fee is 20 Moroccan Dirhams.
One of the highlights of the palace is the Court of Honor, a grand courtyard surrounded by arched galleries and decorated with intricate tilework and stucco carvings. The palace also boasts beautiful gardens, including a central courtyard with a large pool and a variety of plants and flowers.
Another highlight of the palace is the Harem, a private area reserved for the women of the palace. This area is richly decorated with colorful tilework, intricate stucco carvings, and beautiful mosaics. Visitors can also see the palace's private apartments, which feature ornate decoration and beautiful views of the gardens.
The Bahia Palace is not only a visual treat but also a great place to learn about the rich history and culture of Marrakech. The palace offers a unique glimpse into the lives of the wealthy and powerful of the past, and is a must-see for anyone interested in Moroccan architecture and history.
The palace is also surrounded by local shops and vendors, where you can buy souvenirs and traditional Moroccan items. Visitors can also enjoy traditional Moroccan food in the local restaurants.
In conclusion, the Bahia Palace is a true gem of Marrakech and a must-see for anyone visiting the city. With its stunning architecture, beautiful gardens, and rich history, the palace offers a truly unforgettable experience. Don't miss the opportunity to explore this magnificent palace during your next trip to Marrakech.
Suggestion of our best
Tours
Below Tours that may interest you: